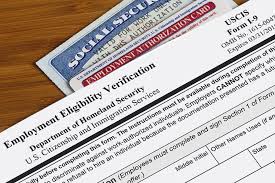 Add another revenue stream to your income! Learn today how to complete an I-9 form for any employer in the United States. This course teaches an individual how to properly complete an I-9 Form used for Employment Eligibility Verification. Often, a commissioned Notary Public will be hired to fulfill this role. In this capacity a Notary Public is acting as an "Authorized Representative" of the company and not as a Notary. An Authorized Representative does not have to be a Notary since this form is not notarized. A company can hire anyone competently trained. Let that be you! 
NOTE** If you are a Notary in California or Texas, please review your state laws regarding I-9 procedures before enrolling.
What You Will Learn
This course teaches how to properly identify acceptable documents identification and employment eligibility. There is a lot of detail information involved so training is crucial. You will learn:
How to properly complete an I-9 form for any employer
Eligible Workgroups
Acceptable identity documents
Acceptable work eligibility documents
Unacceptable documents
Retention requirements
Best Practices
More
Student Reviews


"Very clear, to the point, and I loved the quizzes. Helped me to retain the info."
-Shelby H.
"This course was very informative, simple and easy to understand... Adding an additional service to your business equals more money in your pocket."
-Collene F.
"Excellent Training!!!
Can I give this course 20 stars? That is how impressed I was with this course! Trust me, you will, too! Lisa's way of teaching is just what everyone needs. Her instructions are so concise and clear. There is no need to ask any questions, However, if you do have them, Lisa is very accessible and available. The I-9 course provides so many scenarios that I hadn't thought of. As a result, I real extremely confident that I will be able to handle any scenario that is presented. While taking this course, I began implementing the advice Lisa provided. I was making a few of the mistakes that she stated new notaries are making. I highly recommend this course."
-Marcy T.

Additional Courses Available
Continue to learn more to earn more with these additional courses from the Notary Village.

Check your inbox to confirm your subscription